The effects of macroeconomic shocks on employment: The case of Mexico
Raymundo M. Campos Vázquez

El Colegio de México
Keywords:
Mexico, employment, wages, shocks, informality
JEL Classification:
J21, J22, J23, J48
Abstract
This paper studies the effects of macroeconomic shocks in employment and wages for the case of Mexico. I find that young and unskilled workers are the most affected by an economic shock in terms of unemployment, labor force participation and employment in the informal sector. I derive a theoretical model to study the effects of macroeconomic shocks on wages and employment composition. The theoretical findings imply that the elasticities of labor supply in the formal and informal sector are close to 0.75 and 0 respectively, and both labor demand elasticities are close to 1.
References
Albrecht, J., L. Navarro, and S. Vroman. 2009. The Effects of Labour Market Policies in an Economy with an Informal Sector, Economic Journal, 119(539): 1105-1129.
Alcaraz, C., D. Chiquiar, and M. Ramos Francia. 2008. Diferencias salariales intersectoriales y el cambio de la composición del empleo urbano de la economía mexicana en 2001-2004, Documentos de Investigación, núm. 2008-06, Banco de México.
Arceo Gómez, E.O., and R.M. Campos Vázquez. 2009. Female Labor Supply in Mexico 1990-2000 (unpublished).
Besley, T., and R. Burgess. 2004. Can Labor Regulation Hinder Economic Performance? Evidence from India, The Quarterly Journal of Economics, 119(1): 91-134.
Blau, F.D., and L.M. Kahn. 2007. Changes in the Labor Supply Behavior of Married Women: 1980-2000, Journal of Labor Economics, 25(3): 393-438.
Bosch, M., and W. Maloney. 2007. Gross Worker Flows in the Presence of Informal Labor Markets: Evidence from Mexico, 1987-2002, IZA Discussion Papers, no. 2864, Institute for the Study of Labor.
Fallon, P.R., and R.E. Lucas. 2002. The Impact of Financial Crises on Labor Markets, Household Incomes, and Poverty: A Review of the Evidence, The World Bank Research Observer, 17(1): 21-45.
Ferreira, F., G. Prennushi, and M. Ravallion. 1999. Protecting the Poor from Macroeconomic Shocks, Policy Research Working Paper Series, no. 2160, The World Bank.
Frías, J.A. 2008. The Incidence of Social Insurance Contributions: The Case of Mexico, Instituto Mexicano del Seguro Social (unpublished).
Gruber, J. 1997. The Incidence of Payroll Taxation: Evidence for Chile, Journal of Labor Economics, 15(3): S72-S101.
Gërxhani, K. 2004. The Informal Sector in Developed and Less Developed Countries: A Literature Survey, Public Choice, 120(3-4): 267-300.
Hamermesh, D.S. 1993. Labor Demand, Princeton University Press.
IMF. 2009. World Economic Outlook.
INEGI. 2010. Encuesta nacional de empleo urbano, online information available, at: http://www.inegi.org.mx.
INEGI. 2010.Encuesta nacional de ocupación y empleo, online information available, at: http://www.inegi.org.mx.
Jacobson, L.S., R.J. LaLonde, and D.G. Sullivan. 1993. Earnings Losses of Displaced Workers, The American Economic Review, 83(4): 685-709.
Kaplan, D.S., G. Martínez González, and R. Robertson. 2005. What Happens to Wages after Displacement? Economía, 5(2): 197-242.
Katz, L. F. 1996. Wage Subsidies for the Disadvantaged, NBER Working Papers, no. 5679, National Bureau of Economic Research.
Kugler, A., and M. Kugler. 2009. Labor Market Effects of Payroll Taxes in Developing Countries: Evidence from Colombia, Economic Development and Cultural Change, 57(2): 191-215.
Levy, S. 2008. Good Intentions, Bad Outcomes: Social Policy, Informality, and Economic Growth in Mexico, Brookings Institution Press.
Loayza, N.V. 1996. The Economics of the Informal Sector: a Simple Model and Some Empirical Evidence from Latin America, Carnegie-Rochester Conference Series on Public Policy, 45(1): 129-162.
Maloney, W.F. 2004. Informality Revisited, World Development, 32(7): 1159-1178.
Marrufo, G. 2001. Financing Social Security Systems in Mexico: Who Bears the Cost? Working Papers, no. 135, Center for Research on Economic Development and Policy Reform, Stanford University.
McKenzie, D.J. 2003. How do Households Cope with Aggregate Shocks? Evidence from the Mexican Peso Crisis, World Development, 31(7): 1179-1199.
Mortensen, D.T., and C.A. Pissarides. 1994. Job Creation and Job Destruction in the Theory of Unemployment, Review of Economic Studies, 61(3): 397-415.
Phelps, E.S. 1994. Low-Wage Employment Subsidies Versus the Welfare State, The American Economic Review, 84(2): 54-58.
Rodríguez Oreggia, E. 2007. La dinámica comparativa del sector informal en México, Serie Documentos de Investigación, núm. 19, Universidad Iberoamericana.
Verick, S. 2009. Who Is Hit Hardest during a Financial Crisis? The Vulnerability of Young Men and Women to Unemployment in an Economic Downturn, IZA Working Paper Series, no. 4359, Institute for the Study of Labor.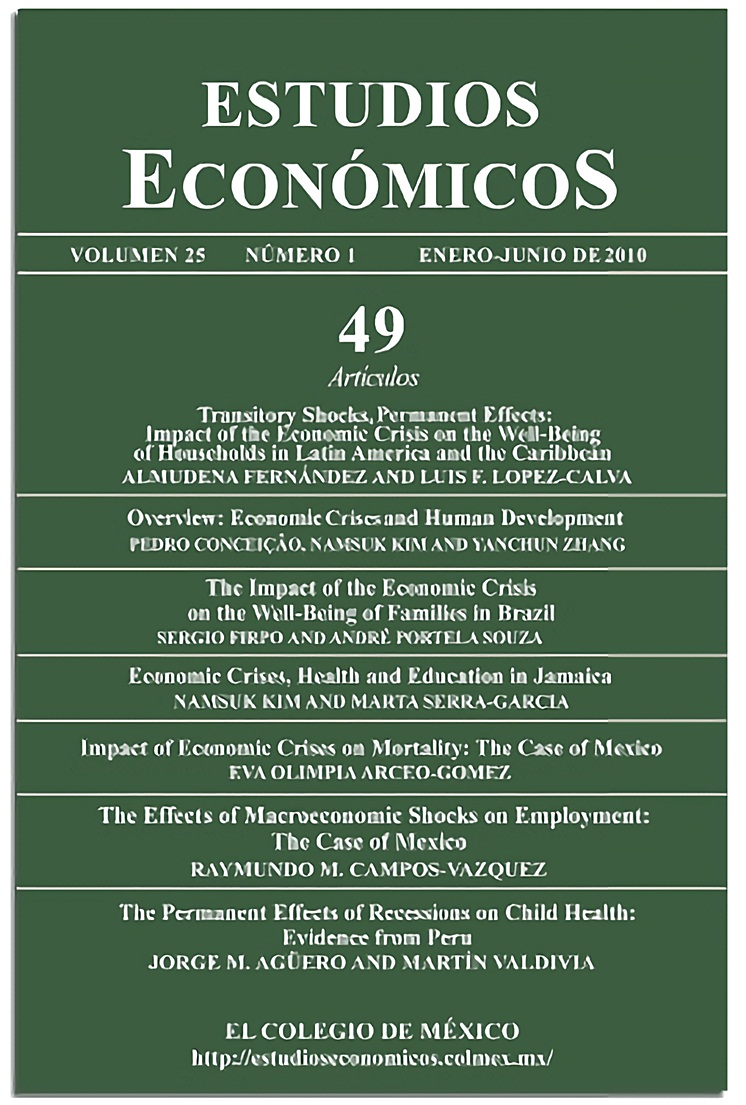 How to Cite
Campos VázquezR. (2010). The effects of macroeconomic shocks on employment: The case of Mexico. Estudios Económicos, 25(1), 177-246. https://doi.org/10.24201/ee.v25i1.114
Abstract viewed

- 1348 times

PDF downloaded: 246 times