Privatization: Do prices rise or fall? Mixed duopoly with vertical differentiation
Julio César Arteaga García

Universidad Autónoma de Nuevo León

Oscar J. Cárdenas Rodríguez

Universidad de Guanajuato

Daniel Flores Curiel

Universidad Autónoma de Nuevo León
Keywords:
duopoly, privatization
JEL Classification:
L13, L33
Abstract
In this paper, we use a duopoly model with vertical (quality) product differentiation to determine whether privatization of a public firm leads to higher or lower prices than those prevailing in a mixed duopoly. We show that privatization can move prices on either direction.
References
Anderson, S., A. de Palma y J. Thisse (1997), "Privatization and efficiency in a differentiated industry", European Economic Review, vol. 41, pp. 1635-1654.
Beato, P., y A. Mas-Colell (1984). "The marginal cost pricing as a regulation mechanism in mixed markets" en M. Marchand y H. Tulkens (comps.), Performance of public enterprises, Nort-Holland, Amsterdam.
Cremer, H., M. Marchand y J. Thisse (1991). "Mixed oligopoly with differentiated products", International Journal of Industrial Organization, vol. 9, pp. 43-53.
De Fraja, G. y F. Delbono (1990). "Game theoretic models of mixed oligopoly", Journal of Economics Surveys, vol. 4, pp. 1-17.
Grilo, I. (1994). "Mixed duopoly under vertical differentiation", Annales d´Economie et de Statistique, vol. 33, pp. 91-112.
Harsanyi, J. (1980). "Cardinal welfare, individualistic ethics and interpersonal comparison of utility", Journal of Political Economy, vol. 63, pp. 309-321.
Matsushima, N. y T. Matsumura (2003). "Mixed oligopoly and spatial agglomeration", Canadian Journal of Economics, vol. 36, pp. 62-87.
Merrill, W. y N. Schneider (1996). "Government firms in oligopoly: a short run analysis", Quarterly Journal of Economics, vol. 84, pp. 400-412.
Tirole, J. (1988). The Theory of Industrial Organization, MIT Press, Cambridge.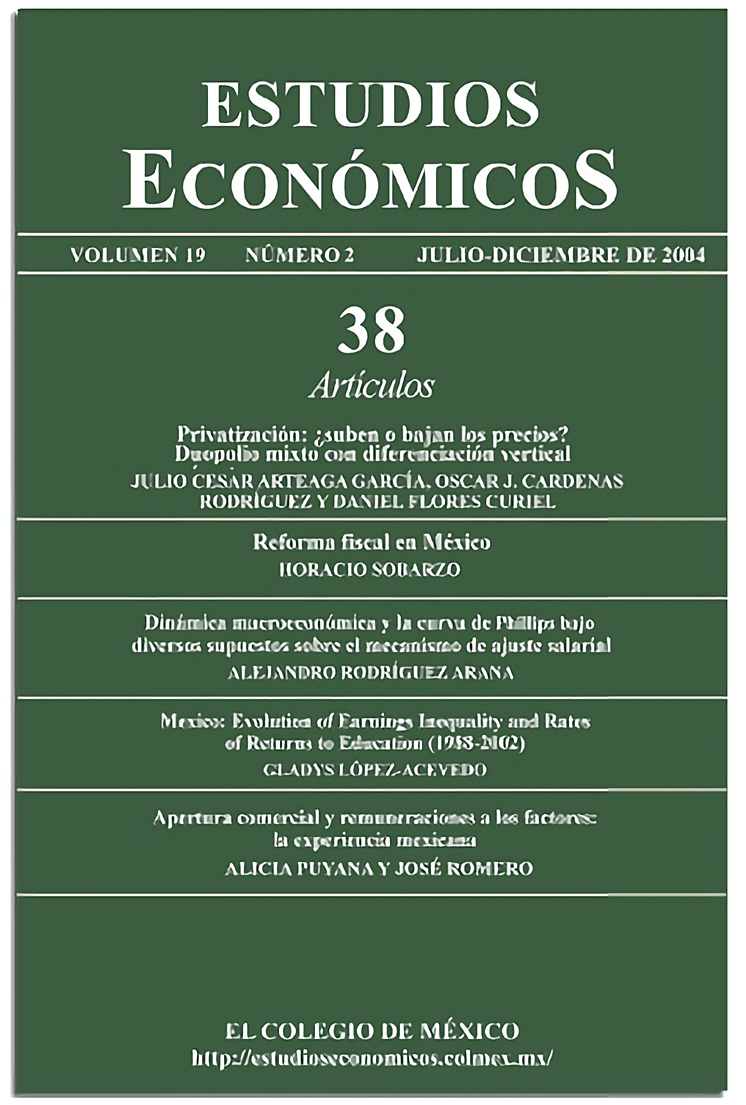 How to Cite
Arteaga GarcíaJ., Cárdenas RodríguezO., & Flores CurielD. (2004). Privatization: Do prices rise or fall? Mixed duopoly with vertical differentiation. Estudios Económicos, 19(2), 141-157. https://doi.org/10.24201/ee.v19i2.175
Abstract viewed

- 351 times

PDF (Spanish) downloaded: 135 times