Effects of the disappearance of Conasupo on trade and prices of staple crops
Antonio Yúñez Naude

El Colegio de México

Fernando Barceinas

Universidad Autónoma Metropolitana
Keywords:
agriculture, international market, international competition
Abstract
This article examines one of many reforms undertaken by the Mexican government in order to liberalize the economy: the dismantling of Conasupo, which was probably the most important state trading enterprise of Mexico. In this article we document the steps followed to eliminate this company, with special emphasis on its effect on trade. We also present the results of an empirical investigation that indicated that as a consequence of the liberalization of Mexico's agricultural sector, its food staple producers are now subject to international competition.
References
Abbott, P. C: y L. M. Young (1997). "Wheat-Importing State Trading Enterprises: Impact on World Wheat Markets", Bringing Agriculture into the GATT, International Agricultural Trade Research Consortium, San Diego, diciembre, ponencia.
Ackerman, K. (1997). "State Trading Enterprises: Their Role as Importers", USDA, ERS, Agricultural Outlook, noviembre.
Aserca (1996). Claridades agropecuarías, núm. 38, octubre, y núm. 45, mayo.
Calva, José Luis (1995). "Razones y principios de una política integral incluyente de los campesinos", en Ernesto Moreno, et al. (comp.), El sistema de poscosecha de granos en el medio rural: problemática y propuestas, UNAM, Programa Universitario de Alimentos, pp. 79-140.
Casco, A. (1999). "Conasupo: A Case Study of State Trading Desregulation", Globalization and its Impacts on Governmental Organization and Parastatals, Canadian Agricultural Economics Society, Ottawa, ponencia.
Conasupo (1970). ¿Qué es Conasupo?, México.
Conasupo (1970b). ¿Cómo funciona Conasupo?, México.
Conasupo (1970c). Informe de actividades del Sistema Conasupo, Dirección de Planeación, 1986, 1988, 1989, México.
Conasupo (1989a). Conasupo en cifras, México.
Conasupo (1989b). Sistema Conasupo. Catálogo de programas, México.
Dixit P. M. y T. Josling (1997). State Trading in Agriculture: An Analytical Framework, documento de trabajo, 97-4, IATRC.
García, Luis Arturo (1998). "Skim Milk Powder Imports and the Role of Conasupo", Taller sobre empresas estatales, Universidad de Stanford, nov., ponencia.
Gujarati, D. (1988). Basic Econometrics, McGraw-Hill.
Gurza Lavalle, A. (1994). La reestructuración de lo público. El caso Conasupo, UNAM, México.
Hernández, M. I. (1998). "Tipología de productores agropecuarios", Seminario sobre pequeños productores en México, México, ponencia.
Josling, T. (1997). "State Trading: The Achilles Heel of the WTO?", Seminario del Instituto de Graduados, Universidad de Ginebra, ponencia.
Josling, T. (1996). "The WTO, the Uruguay Round and State Trading in Agricultural Products", reunion annual del IATRC, Washington, ponencia.
Nacional Financiera. La economía mexicana en cifras, varios años, México.
OCDE (1997). Examen de las políticas agrícolas de México: políticas nacionales y comercio agrícola, París.
Sagar. Centro de Estadísticas Agropecuarías, www.sagar.gob.mx
Sagar (1997). Programas y proyectos en apoyo al campo 1996, México.
Salinas de Gortari, C. Informes de gobierno, varios años, Presidencia de la República, México.
Secofi (1994). Fracciones arancelarias y plazos de desgravación, Miguel Ángel Porrúa, México.
Shagam, S. y D. Plunkett (1997). "Tariff Rate Quotas Administration in Mexico: 1994-1997", reunión del IATRC, San Diego, ponencia.
Taylor, J. E., A. Yúnez-Naude y S. Hampton (1999). "Agricultural Policy Reforms and Village Economies: A CGE Analysis from Mexico", Journal of Policy Modeling, 21 (4), pp. 453-480.
Yañez-Zazueta (1997). Food Security Programmes in Mexico, 1930-1995: The Case of the Maize Sector, Department of Economic History, The London School of Economics and Political Science, tesis de maestría.
Yúnez-Naude, A. (1998a). "Small-Scale Corn and Livestock Mexican Farmers", en Loyns, R. M., R. D. Knuston y K. Meilke (comps.), Economic Harmonization in the Canadian-US-Mexican Grain-Livestock Subsector, Friesen Printers, Winnipeg, pp. 209-223.
Yúnez-Naude, A. (1998b). "Conasupo: The Dismantling of a State Trader", Seminar on state trading enterprises in North American, International Research Center, Stanford University, nov., pp. 19-21.
Yúnez-Naude, A. (1999). "The Dismantling of Conasupo, a Mexican State Trader in Agriculture", mimeo.
Zedillo, Ernesto (1997). Tercer informe de gobierno, Presidencia de la República, México.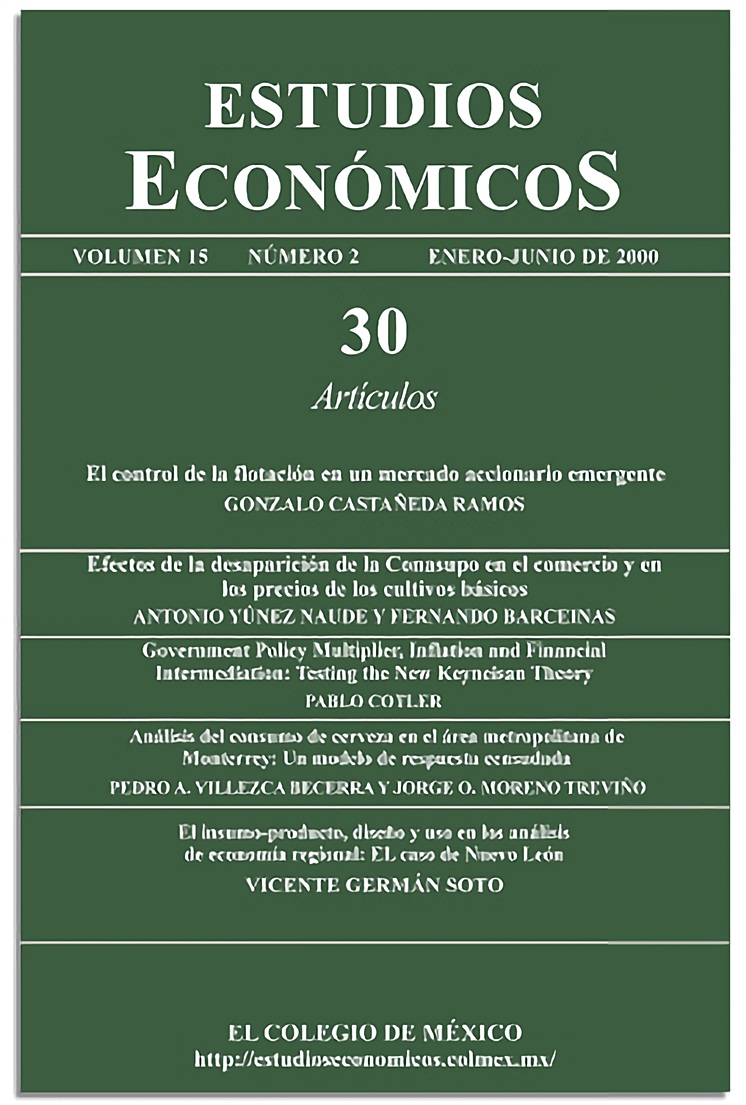 How to Cite
Yúñez NaudeA., & BarceinasF. (2000). Effects of the disappearance of Conasupo on trade and prices of staple crops. Estudios Económicos, 15(2), 189-227. https://doi.org/10.24201/ee.v15i2.215
Abstract viewed

- 454 times

PDF (Spanish) downloaded: 296 times