Wage and occupational polarization in Mexico: 2005-2017
Keywords:
polarization, inequality, informal labor markets, discrimination
Abstract
This research analyzes the phenomenon of wage and occupational polarization in the Mexican labor market during the period 2005-2017, based on a division of the labor market into formal and informal employment as well as gender. Through a decomposition by level of skills it is suggested that there is a process of incipient polarization in the formal market and a canonical process of polarization in the informal market. In the same way, the index DER corroborate an increase in the wage and occupational polarization in the period. Likewise, a breakdown of components shows that labor market segmentation, union weakness, size of establishments and labor discrimination are some of the main causes of wage and occupational polarization in Mexico.
References
Acemoglu, D.; P. Aghion y G. Violante. 2001. Deunionization, technical change and inequality, Carnegie-Rochester Conference Series on Public Policy, 55 (1): 229-264.
Acemoglu, D. y D. Autor. 2011. Skills, tasks and technologies: implications for employment and earnings, NBER, Working Papers Series, no. 10082, consultado en http://www.nber.org/papers/w16082,13/06/2015.
Andridge, R. y R. Little. 2010. A review of hot deck imputation for survey nonresponse, International Statistical Review, 78(1): 40-64. doi:10.1111/j.1751-5823.2010.00103.x
Araar, Abdelkrim. 2008. On the decomposition of polarization indices: Illustrations with Chinese and Nigerian household surveys, CIRPEE Working Paper 08-06.
Autor, D; F. Levy y R. Murnane. 2003. The skill content of recent technological change: an empirical exploration, The Quarterly Journal of Economics, 118(4): 1279-1333.
Autor, D.; L. Katz y M. Kearney. 2006. The polarization of the US labor market, NBER, Working Papers Series, no. 11986, consultado en http://www.nber.org/papers/w11986,12/10/2015.
Autor, D. 2010. The polarization of job opportunities in the US labor market. Implications for employment and earnings, Center for American Progress/The Hamilton Project, pp. 41.
Borraz, F.; N. González y M. Rossi. 2011. Polarization and the middle class, Latin American Journal of Economics, 50(2): 1-34.
Bound, J. y G. Johnson. 1992. Changes in the structure of wage in the 1980's: An evaluation of alternative explanations, The American Review, 82(3): 371-392.
Bluestone, B. y B. Harrison. 1988. The growth of low-wage employment: 1963- 86, American Economic Review, 78(2): 124-128.
Brzezinski, M. 2013. Income polarization and economic growth, National Bank of Poland, Working Paper, no. 147, consultado en http://www.ecineq.org/milano/WP/ECINEQ2013-296.pdf,7/05/2014.
Campos-Vázquez, R. 2013a. Why did wage inequality decrease in México after NAFTA?, Economía Mexicana, 22(2): 245-278.
Campos Vázquez, R. 2013b. Pobreza y desigualdad en México: identificación y diagnóstico, CEE, Serie de documentos de trabajo, núm. VIII.
Campos Vázquez, R. 2013c. Efectos de los ingresos no reportados en el nivel y tendencia de la pobreza laboral en México, Ensayos Revista de Economía, 32(2): 23-54.
Campos Vázquez, R. 2014. Consecuencias de no corregir por ingresos no declarados en el ingreso laboral, Coyuntura Demográfica, 6: 59-65.
Campos Vázquez, R. y L. Monroy Gómez-Franco. 2016. ¿El crecimiento económico reduce la pobreza en México?, Revista de Economía Mexicana, Anuario UNAM, 1(1): 140-185.
Campos-Vázquez, Raymundo M. y Nora Lustig. 2017. Labour income inequality in Mexico: Puzzles solved and unsolved, WIDER Working Paper Series, no. 186.
Chakravarty, S.R. 2009. Inequality, polarization, and poverty: Advances in distributional analysis, Nueva York: Springer
Duclos, J.; J. Esteban y D. Ray. 2004. Polarization: Concepts, measurement, estimation, Econometrica, 72(6): 1737-1772.
Esquivel, G. y J. Rodríguez. 2003. Technology, trade, and wage inequality in México before and after NAFTA, Journal of Development Economics, 72(2): 543-565.
Esteban, J. y D. Ray. 1994. On the measurement of polarization, Econometrica, 62(4): 819-851.
Esteban, J.; C. Gradín y D. Ray. 2007. Extensions of a measurement of polarization, with an application to the income distribution of five OECD countries, Journal of Income Inequality, 5(1): 1-19.
Fortin, N.; D.A. Green; T. Lemieux y K. Milligan. 2012. Canadian inequality: Recent developments and policy opcion, Canadian Public Policy, 38(2): 121-145.
Foster, J. y M. Wolfson. 2009. Polarization and the decline of the middle class: Canada and the US, The Journal of Economic Inequality, 8(1): 247-273.
Gradín, C. 2000. Polarization by sub-populations in Spain, 1973-91, Review of Economic and Wealth, 46(4): 457-474.
García, G. 2017. Desigualdad y polarización salarial en el empleo formal e informal: el caso de México, 2005-2014, tesis doctoral, UAM, México.
Goldin, C. y L. Katz. 2007. The race between education and technology: The evolution of US education wage differentials, 1890 to 2005, NBER, Working Papers Series, no. 12984, consultado en https://www.nber.org/papers/w12984.pdf,20/01/2016.
Goos, M. y A. Manning. 2003 Lousy and lovely jobs: The rising polarization of work in Britain, CEP Discussion Papers.
Horenstein, M. y S. Olivieri. 2004. Income polarization in Argentina: Pure income polarization, theory and applications, Económica, 0(1-2): 39-66.
Huesca, L. 2004. Is the middle class vanishing in México?: An application of polarization by subgroups between 1984 y 2000, MPRA Paper no. 14390.
Hulchanski, J. y R. Murdie. 2013. Canada's income polarization trend: An international and a four metropolitan area comparison, Neighbourhood Change Research Partnership Policy Brief no. 4, consultado en www.Neighbourhood Change.ca, 12/10/2015.
Juhn, C.; K. Murphy y B. Pierce. 1993. Wage inequality and the rise in return to skill, Journal of Political Economy, 101(3): 410-442.
Katz, L. y D. Autor. 1999. Changes in the wage structure and earnings inequality, Handbook of Labor Economics, 3(A): 1463-1555.
Keefer, P. y S. Knack. 2002. Polarization, politics, and property rights; links between inequality and growth, Public Choice, 111(1-2): 127-154.
Kosters, M.H. y M.N. Ross. 1988. A shrinking middle class? The Public Interest, 90: 3-27.
Instituto Nacional de Estadística y Geografía. INEGI. 2007. Encuesta nacional de ocupación y empleo, México.
INEGI. 2009. Encuesta nacional de ocupación y empleo. Clasificación mexicana de ocupaciones (CMO), volumen 1 y 2, México.
INEGI. 2011. Sistema nacional de clasificación de ocupaciones 2011 (SINCO), México.
INEGI. 2012. Lo que indican los indicadores. Cómo utilizar la información estadística para entender la realidad económica de México, México.
Linz, J. 1987. La quiebra de las democracias, Alianza Editorial, Madrid.
Medina, F. y M. Galván. 2007. Imputación de datos: teoría y práctica, CEPAL, Serie estudios estadísticos y prospectivos, núm. 54, pp. 84.
Michaels, G.; A. Natraj y J. Van Reenen. 2010. Has ICT polarized skill demand? Evidence from eleven countries over 25 years, CEP Discussion Papers dp0987, Centre for Economic Performance, LSE.
Murphy, K. y F. Welch. 1993. Occupational change and demand for skill, 1940-1990, American Economic Review, 83(2): 122-126.
OIT. 2014. El empleo informal en México: situación actual, políticas y desafíos, FORLAC, Notas sobre formalización.
Pertold-Gebicka, B. 2013. Job market polarization and employment protection in Europe, Aarhus University, Business and Social Science, Working Paper, No. 13, consultado en http://ies.fsv.cuni.cz/sci/publication/show/id/4734/lang/paper/cs,12/06/2015.
Schmidt, A. 2002. Statistical measurement of income polarization. A cross-national comparison, 10th International Conference on Panel Data, Berlin, July 5-6, 2002 D3-1,
Shorrocks, A. 1982. Inequality descomposition by factor components, Econometrica, 50(1): 193-211.
Stiglitz, J. 2012. El precio de la desigualdad, 2a edición, Taurus, México.
Wan, G. y C. Wang. 2015. Income polarization in the peoples Republic of China: Trends and changes, Asian Development Bank Institut, working paper, no. 538.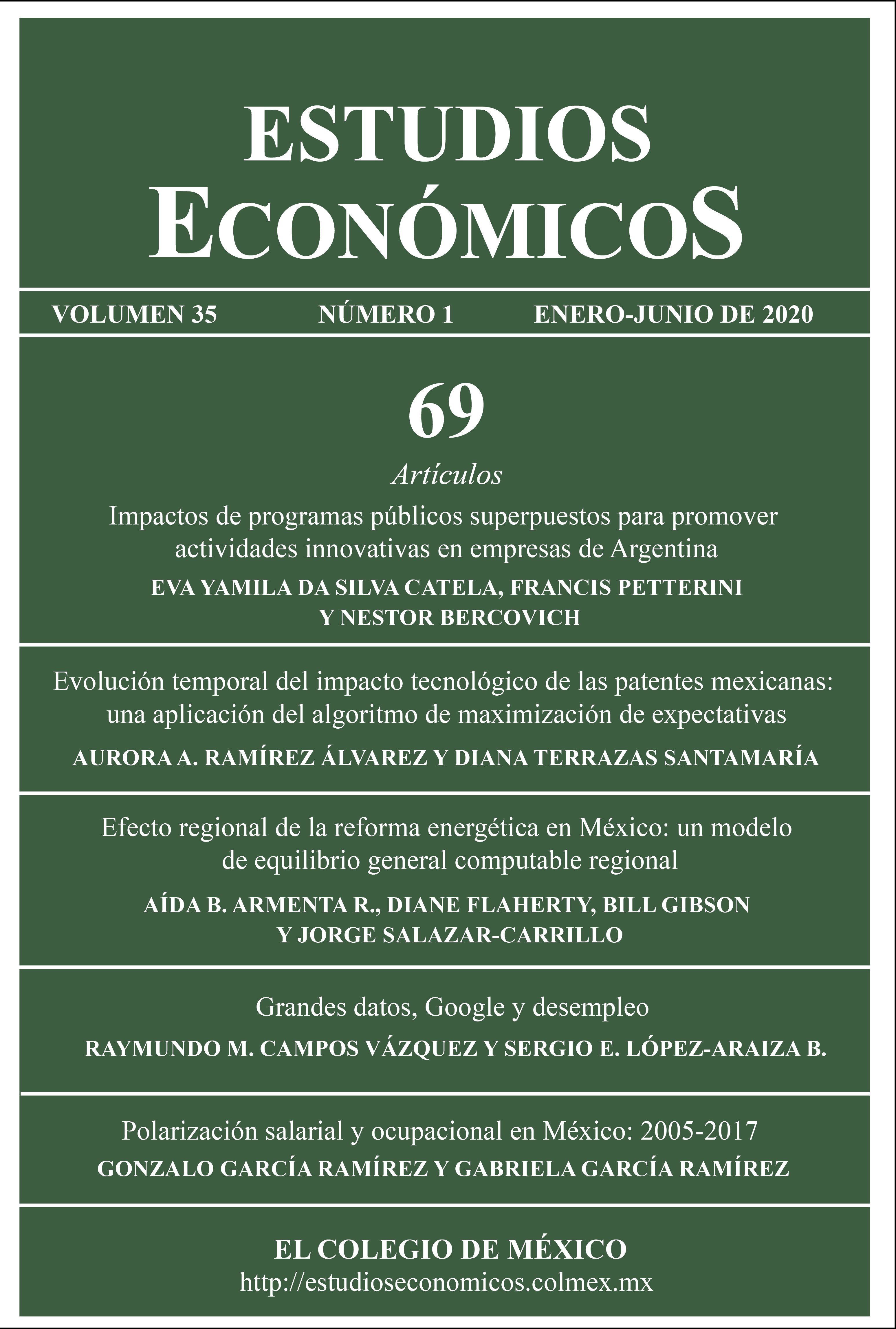 Downloads
How to Cite
García Ramírez, G., & García Ramírez, G. (2020). Wage and occupational polarization in Mexico: 2005-2017. Estudios Económicos De El Colegio De México, 35(1), 153–188. https://doi.org/10.24201/ee.v35i1.400