Trade liberalization and factor remuneration: The Mexican experience
Alicia Puyana

Facultad Latinoamericana de Ciencias Sociales

José Romero

El Colegio de México, A.C.
Keywords:
salaries, open market, labor supply, technology
JEL Classification:
F00, O50
Abstract
In Mexico after 1980, wages and salaries stagnated while returns to capital increased. This article analyzes the causes of this phenomenon during the 1980-2000. It suggests that the opening to foreign trade ought to have constituted a considerable force for raising wages and diminishing profits. The existence of an unlimited labor supply, however, impeded the rise in incomes that the opening to foreign trade would otherwise have brought about and transformed the rise in productivity resulting from technological modernization into, mainly, increasing returns on capital. Also suggests that the expansion of the qualified workforce, which is seen across all sectors, is not a consequence of generalized technological advance raising demand for more highly qualified workers, but merely reflects changes that have taken place on the labor supply side itself.
References
Baldwin, R. y G. Cain (1994). Trade and US relative wages: preliminary results, WP, University of Wisconsin.
Banco de México. Encuesta de acervos, depreciación y formación de capital del Banco de México, varios años, México.
Cortés, Fernando (2000). La distribución del ingreso en México en épocas de estabilización y reforma económica, CIESAS-Miguel Ángel Porrúa, México.
Deninger, K. y P. Olinto (2000). Asset distribution, inequality and growth, WP núm 2375, World Bank.
Easterly, W., N. Fiess y D. Lederman (2003). NAFTA and convergence in North Amerca: high expectations, big events, Little time, World Bank (mimeo).
Esquivel, G. y J. A. Rodríguez (2003). "Technology, trade, and wage inequality in Mexico before and after NAFTA", Journal of Development Economics, núm. 72, pp. 543-565.
Estrella, G. y R. Zenteno (2001). Dinámica de la integración de la mujer a los mercados laborales urbanos de México; 1988-1994, cuaderno de trabajo, núm. 20, STPS.
Freenstra, R. y G. Hanson (1999). "The impact of outsourcing and high-technology capital on wages: estimates for the United States, 1979-1990", Quarterly Journal of Economics, 114, (3), pp. 907-940.
Fernández, J. (2002). Teoría de juegos: su aplicación en economía, El Colegio de México, México.
Fernández, J. (2000). "The macroeconomics setting for innovation", en M. Cimoli (comp.) Developing inovations systems. Mexico in a global context, Continum, NY.
García, B. (1999). "Los problemas laborales de México en el siglo XXI", Papeles de Población, año 5. Núm. 21.
García, B. y O. de Oliveira (2001). "Transformaciones recientes en los mercados de trabajo metropolitano de México: 1990-1998", Estudios Sociológicos, vol. XIX, núm. 57.
Hanson, G. (2003). What has happen to wages in Mexico since NAFTA? NBER Working Paper Series, núm. 9563.
Hanson, G. y A. E. Harrison (2003). "Trade technology, and wage inequality in México", Industrial and Labor Relations Review, 52, (2), pp. 271-288.
Harberger, A. (2003). "Las políticas acertadas pueden dar rienda suelta a las fuentes naturales de crecimiento", FMI Boletín, vol. 32, núm. 13.
Hernández, E. (2000a). "Productividad y empleo en la apertura económica de México", El Trimestre Económico, vol. LXVII, (1), núm. 265.
Hernández, E. (2000b). "Políticas de estabilización y ajuste y distribución funcional del ingreso en México", Revista de Comercio Exterior, febrero.
INEGI (2000). Sistema de cuentas nacionales, México.
Krugman, P. (2002). And now something completely different: An alternative model of trade, education, and inequality, (mimeo).
Krugman, P. (2002). "Is capitalism too productive", Foreign Affairs, vol. 76, núm. 5, pp. 79-94.
Krugman, P. (2002). Technology, trade and factor prices, NBER Working Paper Series, núm 5355.
Leamer, E. (1996). In search of Stolper-Samuelson effects on US wages, NBER Working Paper Series, núm. 5427.
Lewis W. A. (1954). "Economic development, with unlimited supplies of labour", reproducido en T. Morgan,G. W. Betz y N. K. Choudhry (comps.), Readings in economic developmet, Wadsworth Publishing Company, 1963.
Nafinsa (1990). La economía mexicana en cifras, México.
Oliverira, O. de y B. García (1996). "Cambios recientes en la fuerza de trabajo industrial mexicana", Estudios Demográficos y Urbanos, vol. 11, núm. 2.
Presidencia de la República, Informes de gobierno, varios años, México.
Rendón, T. y C. Salas (2000). "La evolución del empleo", en A. Alcalde, et. Al. (comps.), Trabajo y trabajadores en el México contemporáneo, Miguel Ángel Porrúa, México.
Rendón, T. y C. Salas (1996). "Ajuste y empleo: el caso de México", Revista Latinoamericana de Estudios del Trabajo, núm. 2, pp. 77-103.
Ros, J. (1997). Increasing returns, development traps, and economics growth, (mimeo).
Salas, C. (2000). "Otra faceta de la dualidad económica: trabajo y empleo pecario en el México actual", Trabajo, vol. 2, núm. 3, pp. 119-133.
Salas, C. y E. Zepeda (1999). How long can a society endure inmizerizing jobs?, ponencia presentada en el seminario Confronting development: assessing Mexico´s economic and social policy changes, Center for US-Mexican Studies, Universidad de California, San Diego.
Spence, A. M. (1971). Market signaling: information transfer in hiring and related processes, Harvard University Press, Cambridge.
Stolper, W. y P. A. Samuelson (1941). "Protection and real wages", Review of Economic Studies, vol. 9, núm. 1, pp. 51-68.
Stiglitz, J. (1975). "The theory of ´screening´, education, and the distribution of income", American Economic Review, vol. 65, pp. 282-300.
STPS. Encuesta nacional de empleo, varios años, México.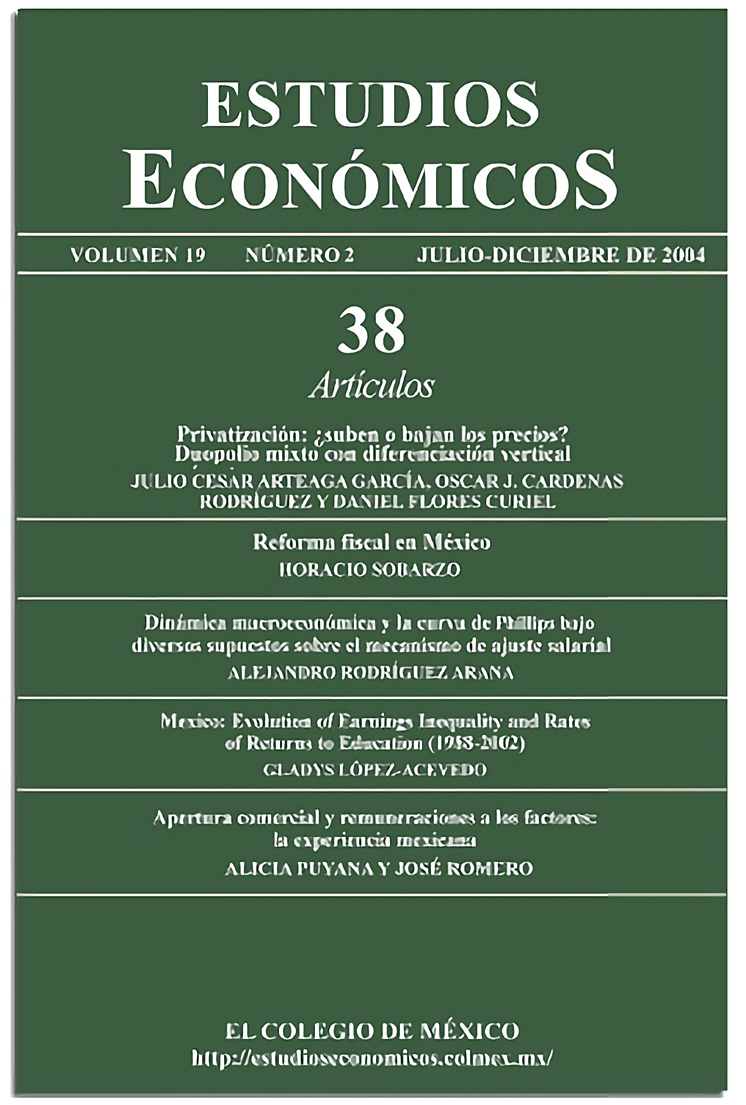 How to Cite
PuyanaA., & RomeroJ. (2004). Trade liberalization and factor remuneration: The Mexican experience. Estudios Económicos, 19(2), 285-325. https://doi.org/10.24201/ee.v19i2.171
Abstract viewed

- 312 times

PDF (Spanish) downloaded: 117 times