Fiscal policy in the management of hydraulic resources: A computable general equilibrium model
Miguel Ángel Gutiérrez Andrade

Universidad Autónoma Metropolitana

Francisco Venegas Martínez

Instituto Tecnológico y de Estudios Superiores de Monterrey

Héctor Manuel Bravo Pérez

Centro de Investigación y Docencia Económicas, A.C.
Keywords:
fiscal policy, computable general equilibrium model, water, welfare
JEL Classification:
H3, D58, I3, Q25
Abstract
We examine the impact of fiscal policy in the management of water resources by using a computable general equilibrium model. Several comparative static exercises are carried out to assess the effects of a particular fiscal policy economic welfare. Finally, we state a set of fiscal policy recommendations for the efficient management of water in the production process for the Mexican case.
References
Aguilera Klink, F. (1994). Pigou and Coase Reconsidered, Land Economics, 70 (3), 386-390.
Aguilera Klink, F. (1992). El fin de la tragedia de los comunes, Ecología Política, Madrid, enero, 137-145.
Darwish R., D. Ethridge y E. Segarra (1995). Land Application of Municipal Wastewater: An Enviro-Economic Analysis, Texas Tech University (mimeo ).
Ethridge, D. E. (1973). The Inclusion of Wastes in the Theory of the Firm, Journal of Political Economy, 81 (6), 1430-1441.
Ginsburgh, V. y M. Keyzer (1997). The Structure of Applied General Equilibrium Models, The MIT Press, Cambridge.
Hardin, G. (1968). The Tragedy of the Commons, Science, 162, 1243.
Maass, A. y R. Anderson (1986). ...and the Desert Shall Rejoice. Conflict, Growth, and Justice in Arid Environments, Robert E. Krieger Publishing Company, Inc., Florida.
Malouf, J., J. Bergy P. Johnson (2000). Optimal Peak Shaving Capacity and Control for a Known Load Curve: Application to Irrigated Agriculture, Proceedings of the 2000 American Control Conference, Chicago, 2897-2901.
Mas-Colell, A., M. D. Whinston y J. R. Green (1995). Microeconomic Theory, Oxford University Press.
Ostrom, E. (1992). Crafting Institutions for Self-Governing Irrigation Systems, Institute for Contemporary Studies, CA (mimeo).
Ostrom, E. (1990). Governing the Commons. The Evolution of Institutions for Collective Action, Cambridge University Press.
Scarf, H. (1973). The Computation of Economic Equilibria, Yale University Press, New Haven.
Shoven, T. (1995). Applying General Equilibrium, Cambridge University Press, Cambridge.
Stoecker, A. L., A. Seidmann y G. S. Lloyd (1985). A Linear Dynamic Programming Approach to Irrigation System Management with Depleting Groundwater, Management Science, 31, 422-434.
Ulibarri, C. A., D. Willis y H. Seeley (1998). Farm Profitability and BUREC Water Subsidies: A Regional Linear Programming Analysis, Contemporary Economics Policy, 16, 442-451.
Varian, H. (1992). Microeconomic Analysis, W. W. Norton Company.
Weizman, M. (1994). Free Access vs Private Ownership as Alternative Systems for Managing Common Property, Journal of Economic Theory, 8, 225-234.
Young, R., J. Dauberty H. Morel-Seytoux (1986). Evaluating Institutional Alternatives for Managing an Interrelated Stream-Aquifer System, American Journal of Agricultural Economics, noviembre, 787-797.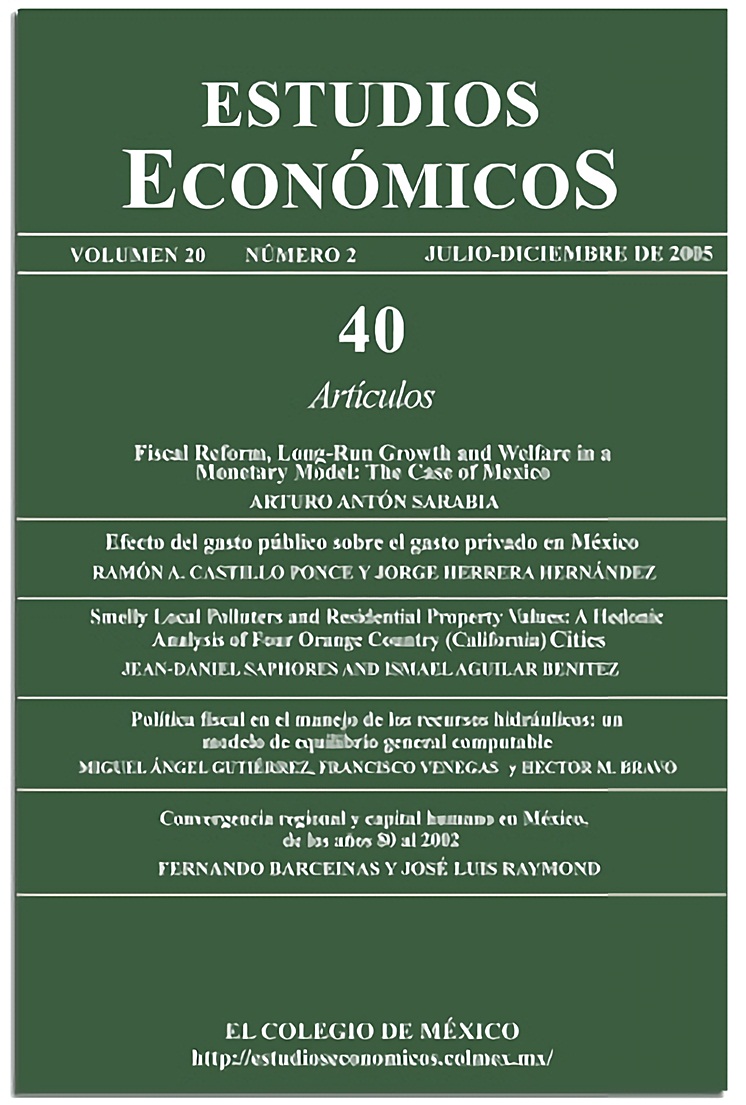 How to Cite
Gutiérrez AndradeM., Venegas MartínezF., & Bravo PérezH. (2005). Fiscal policy in the management of hydraulic resources: A computable general equilibrium model. Estudios Económicos, 20(2), 219-261. https://doi.org/10.24201/ee.v20i2.162
Abstract viewed

- 359 times

PDF (Spanish) downloaded: 153 times