Informality sectoral selection and earnings in Uruguay
Marisa Bucheli

Universidad de la República, Uruguay

Rodrigo Ceni

Universidad de la República, Uruguay
Keywords:
informal sector, wage differential
Abstract
In this paper we define an informal worker as one who is not contributing to the social security system. We analyze the likelihood of being an informal worker, and we estimate the differentials in earnings between sectors using the OLS estimation and a switching regression model. We find that formality is more likely among the better-educated, and among men, those residing in the capital city, and heads of households. In addition, we find that according to five different proxies of the average gap for salaried workers and several sub-samples, earnings are higher in the formal than in the informal sector for all the samples.
References
Amarante, Verónica. 2002. Salarios públicos y privados: los diferentes segmentos del mercado laboral. 1991-2000, Montevideo, FCEA, IE, Universidad de la República, Serie documentos de trabajo, núm. 4/02.
Auerbach, P., M.E. Genoni, and C. Pagés. 2005. Social Security Coverage and the Labor Market in Developing Countries, Washington D.C., Research Department, Inter-American Development Bank, Working Paper no. 537.
Bucheli, M., A. Forteza, and I. Rossi. 2006. Seguridad social y género en Uruguay: un análisis de las diferencias de acceso a la jubilación, Montevideo, FCS, Universidad de la República, DT núm. 04/06.
Bucheli, M. 2004. Uruguay: la cobertura de la seguridad social en el empleo. 1991-2002, in F.M. Bertranou (Ed.), Protección social y mercado laboral, Santiago de Chile, Oficina Internacional del Trabajo (OIT-ILO).
Camacho, L. 1997. Elementos generales del financiamiento del nuevo sistema previsional uruguayo, Montevideo, Banco de Previsión Social, Uruguay (unpublished).
Economic Commission for Latin America and the Caribbean. 2006. Shaping the Future of Social Protection: Access, Financing and Solidarity, Santiago de Chile, LC/G 2294 (SES.31/3)/I).
Forteza, A. 2003. Seguridad social y competencia política, in D. Aboal and J.A. Moraes (Eds.), Economía política en Uruguay. Instituciones y actores políticos en el proceso económico, Montevideo, Ediciones Trilce.
Instituto Nacional de Estadística. 2005. Encuesta continua de hogares.
Maddala, G.S. 1986. Disequilibrium, Self-selection. and Switching Models, in Z. Griliches and M. Intriligator (Eds.), Handbook of Econometrics, chapter 28, Amsterdam, North Holland.
Maloney, W. (1999). Does Informality Imply Segmentation in Urban Labor Markets? Evidence from Sectoral Transitions in Mexico? The World Bank Economic Review, 13(2): 275-302.
Marcouiller, D., V. Ruiz de Castilla, and C. Woodruff. 1997. Formal Measures of the Informal Sector Wage Gap in Mexico, Peru and El Salvador, Economic Development and Cultural Change, 45(2): 367-392.
Oaxaca, R. 1973. Male-Female Wage Differentials in Urban Labor Markets, International Economic Review, 14: 693-709.
Perry, G. et al. 2007. Informality: Exit and Exclusion, Washington D.C., World Bank Publications.
Pisani, M.J., and J.A. Pagán. 2004. Sectoral Selection and Informality: A Nicaraguan Case Study, Review of Development Economics, 8(4): 541556.
Portes, A., M. Castells and L.A. Benton. 1989. The Informal Economy: Studies in Advanced-and Less- Developed Countries, Baltimore, The Johns Hopkins University Press.
Pratap, S. and E. Quint´ın. 2003. Are Labor Markets Segmented in Argentina? A Semiparametric Approach, European Economic Review, 50(7): 1817-1841.
Rius, A. 2003. Racionalidad limitada y "empaquetamiento" en los procesos de reforma: el caso de la seguridad social, in D. Aboal y J.A. Moraes (Eds.) Economía política en Uruguay. Instituciones y actores políticos en el proceso económico, Montevideo, Universidad de la República and Centro de Investigaciones Económicas.
Saavedra, J. and A. Chong. 1999. Structural Reform, Institutions and Earnings: Evidence for the Formal and Informal Sector in Urban Peru, The Journal of Development Studies, 35( 4): 95-116.
Schneider, F. and D.H. Enste. 2000. Shadow Economies: Size, Causes, and Consequences, Journal of Economic Literature, 38(10): 77-114.
Tokman, V. 1990. Sector informal en América Latina: de subterráneo a legal, in Programa Regional de Empleo para América Latina y el Caribe Más allá de la regulación, Santiago de Chile.
Vigorito, A. 2005. El impacto de las asignaciones familiares sobre la pobreza y la distribución del ingreso en los años recientes, in UNICEF Asignaciones familiares, pensiones alimenticias y bienestar de la infancia en Uruguay, Montevideo.
Wooldridge, Jeffrey M. 2002. Econometric Analysis of Cross Section and Panel Data, Cambridge, MIT Press.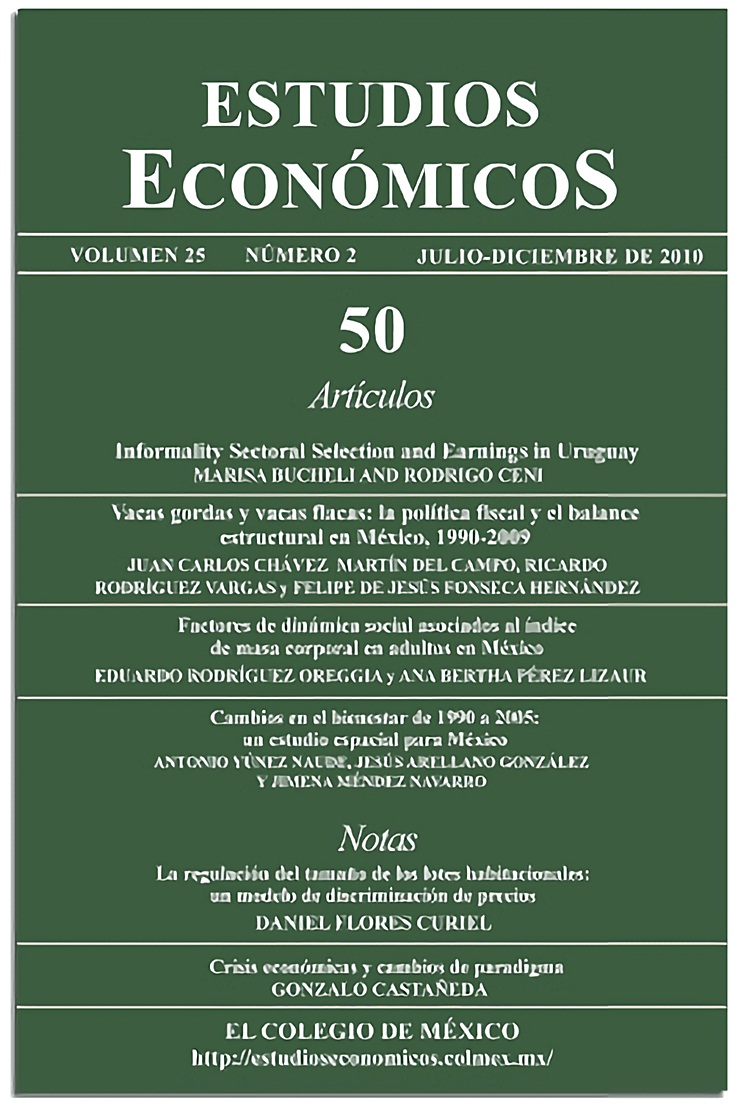 How to Cite
BucheliM., & CeniR. (2010). Informality sectoral selection and earnings in Uruguay. Estudios Económicos, 25(2), 281-307. https://doi.org/10.24201/ee.v25i2.112
Abstract viewed

- 424 times

PDF downloaded: 214 times