Sustainability of public debt in Mexico, before and after COVID-19, 2018-2024
Juan Carlos Rivas Valdivia

Subregional Headquarters of the Economic Commission for Latin America and the Caribbean
Keywords:
debt, sustainability, economic growth
JEL Classification:
H630, H680, E620, F470, C510
Abstract
This document presents an accounting and econometric estimate for the debt sustainability analysis for Mexico for the 2018-2024 period. The study places special emphasis on debt trajectories and on internal and external factors that can modify these paths, including the COVID-19 pandemic. The analysis concludes that some of the extreme internal or external shocks modeled on the dynamics of public debt in Mexico put the sustainability of its trajectory in the medium and long term at risk for the country.
References
Afonso, A. y J. Tovar. 2017. Sovereign debt composition and time-varying public finance sustainability, The North American Journal of Economics and Finance, 42: 144-155.
Aguiar, M. y M. Amador. 2014. Sovereign debt, en G. Gopinath, E. Helpman y K. Rogoff (eds.), Handbook of International Economics, Vol. 4, 647-687, Elsevier.
Banco Central Europeo. 2017. Debt sustainability analysis for euro area sovereigns: A methodological framework, Occasional Paper Series No 185, European Central Bank.
Banco de México. 2020. Informe trimestral, abril-junio de 2020, https://www.banxico.org.mx/publicaciones-y-prensa/informes-trimestrales/%7B10432E5D-FBCA-D15F-8339-9EB79123860D%7D.pdf.
BID. 2013. Plantilla integrada para análisis de sostenibilidad de deuda, Nota Técnica No. 576, Banco Interamericano de Desarrollo.
Barhoumi, K., R. Cherif y N. Rebei. 2016. Stochastic trends, debt sustainability and fiscal policy, IMF Working Paper No. 16/59.
Beqiraj, E., S. Fedeli y F. Forte. 2018. Public debt sustainability: An empirical study on OECD countries, Journal of Macroeconomics, 58: 238-248.
Blanchard, O., J. Chouraqui, R. Hagemann y N. Sartor. 1991. The sustainability of fiscal policy: New answers to an old question, NBER Working Paper No. R1547.
Blanchard, O. y M. Das. 2017. A new index of debt sustainability, NBER Working Paper No. 24068.
Buiter, W. 1985. A guide to public sector debt and deficits, Economic Policy, 1(1): 13-79.
CEFP. 2018. Análisis a la sostenibilidad de la deuda pública en México a la luz del MSD, Nota Informativa No. 047, Centro de Estudios de las Finanzas Públicas.
CIEP. 2017. Análisis de sostenibilidad fiscal en México, http://ciep.mx/analisis-de-la-sostenibilidad-fiscal-en-mexico/.
D'Erasmo, P., E. Mendoza y J. Zhang. 2016. What is a sustainable public debt?, en J.B. Taylor y H. Uhlig (eds.), Handbook of Macroeconomics, Vol. 2, 2493-2597, Elsevier.
Díaz de León, A., R. Gutiérrez y O. Vela. 2012. La sostenibilidad de la deuda pública en México, Gaceta de Economía, Número especial: 275-304.
Draksaite, A., V. Snieska, G. Valodkiene y A. Daunoriene. 2015. Selection of government debt evaluation methods based on the concept of sustainability of the debt, Procedia - Social and Behavioral Sciences, 213: 474-480.
FMI y Banco Mundial. 2017. The joint World Bank - IMF debt sustainability framework for low-income countries, Washington D.C., International Moneraty Fund - World Bank.
FMI y Banco Mundial. 2018. El marco de sostenibilidad de la deuda elaborado por el Banco Mundial y el FMI para los países de bajo ingreso, International Monetary Fund Factsheet.
Fournier, J. y M. Betin. 2018. Limits to government debt sustainability in middle-income countries, OECD Economics Department Working Papers No. 1493.
Frank, N. y E. Ley. 2009. On the probabilistic approach to fiscal sustainability: Structural breaks and non-normality, IMF Staff Papers, 56: 742-757.
Greiner, A. 2011. Sustainability of public debt: Some theoretical considerations, Economics Bulletin, 31(4): 3311-3319.
Greiner, A. 2013. How to test for debt sustainability? Some theoretical reflections on an empirical test, Bielefeld Working Papers in Economics and Management No. 17-2013.
Guillard M. y H. Kempf. 2017. Public debt sustainability and defaults, CESifo Working Paper Series No. 6554.
Heal, G. 2011. Sustainability and its measurement, NBER Working Paper No. 17008.
Leeper, E. y L. Bing. 2016. Surplus-debt regressions, NBER Working Paper No. 22662.
Ley, E. 2010. Fiscal (and external) sustainability, MPRA Paper No. 13693.
Macías, A. 2010. La sostenibilidad de la deuda en los países de bajos ingresos: hacia una propuesta de marco teórico basado en el análisis estructural, Revista de Economía Mundial, 24: 245-268.
Paunovic, I. 2005. Sostenibilidad de la deuda pública en los países norteños de América Latina, Revista de la CEPAL, 87: 97-114.
Secretaría de Hacienda y Crédito Público. 2020. Criterios generales de política económica (CGPE) para el ejercicio fiscal 2020.
Secretaría de Hacienda y Crédito Público. 2021. Criterios generales de política económica (CGPE) para el ejercicio fiscal 2021.
UNCTAD. 2018. Trade and development report 2018.
Vaca, J., G. Vaca y C. Mora. 2020. El impacto de la deuda pública en el crecimiento económico: un estudio empírico de México (1994-2016), Revista de la CEPAL, 130: 179-194.
Vaggi G. y A. Prizzon. 2013. On the sustainability of external debt: Is debt relief enough? Cambridge Journal of Economics, 38(5): 1155-1169.
Zanna, L., E.F. Buffie, R. Portillo, A. Berg y C. Pattillo. 2019. Borrowing for growth: Big pushes and debt sustainability in lower-income countries, The World Bank Economic Review, 33(3): 661-689.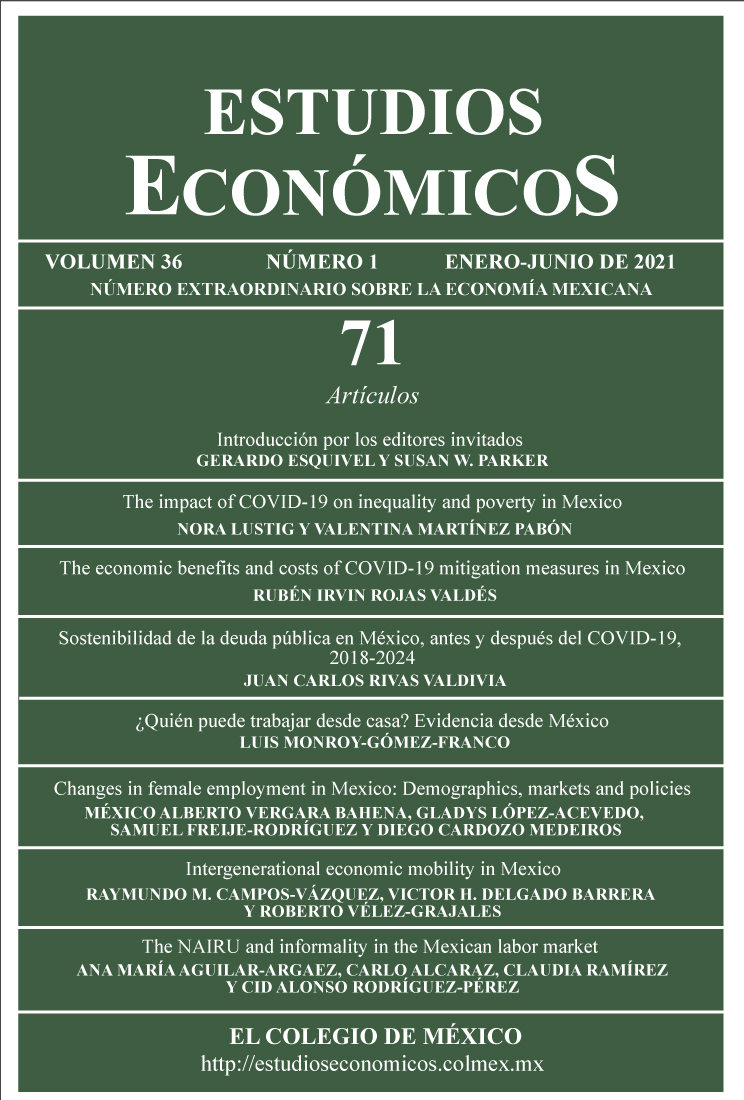 How to Cite
Rivas ValdiviaJ. (2020). Sustainability of public debt in Mexico, before and after COVID-19, 2018-2024. Estudios Económicos, 36(1), 57-87. https://doi.org/10.24201/ee.v36i1.414
Abstract viewed

- 889 times

PDF (Spanish) downloaded: 840 times

XML (Spanish) downloaded: 3 times