Actual exit time from poverty
Juan Carlos Chávez

Universidad de Guanajuato
Keywords:
poverty measurement, actual exit time, minimum neccessary growth rate
JEL Classification:
I32, O10, D31
Abstract
We develop a methodology to estimate the actual exit time from poverty and the minimum necessary growth rate to eradicate it in a predetermined period of time without assuming distributionally neutral income growth. We compare the exit time for the average poor (Kanbur, 1987) and the average exit time (Morduch, 1998) with the actual exit time in terms of their sensitivity to the distribution of income below the poverty line. The methodology is applied to rural areas in Mexico.
References
Addisson, T., D. Hulme y R. Kanbur (2008). Poverty Dynamics: Measurement and Understanding from an Interdisciplinary Perspective, Brooks World Poverty Institute, BWPI Working Paper 19.
Banco Mundial (2000). World Development Report 2000: Attacking Poverty, Washington.
Barrett, C. (2005). Rural Poverty Dynamics: Development Policy Implications, Agricultural Economics, vol. 32, 45-60.
Cárdenas Rodríguez, O. y F. Luna López (2006). Estimación del tiempo de salida de la pobreza: una aplicación a los diez municipios más marginados de México, Estudios Económicos, 21(1), 45-54.
Clark, S., R. Hemming y D. Ulph (1981). On Indices for the Measurement of Poverty, The Economic Journal, 91(362), 515-526.
Consejo Nacional de Evaluación de la Política de Desarrollo Social (Coneval) (2006). Nota técnica sobre la aplicacion de la metodología del comité técnico para la medición de la pobreza 2000-2005, México.
Gastwirth, J. (1971). A General Definition of the Lorenz Curve, Econometrica, 39(6), 1037-1039.
Hulme, D. y A. Shepherd (2003). Conceptualizing Chronic Poverty, World Development, 31(3), 403-423.
Kanbur, R. (1987). Measurement and Alleviation of Poverty: With an Application to the Effects of Macroeconomic Adjustment, IMF Staff Papers, vol. 34, 60-85.
Koenker, R. y G. Bassett Jr (1978). Regression Quantiles, Econometrica, 46(1), 33-50.
Lawson, D., A. Mckay y J. Okidi (2006). Poverty Persistence and Transitions in Uganda: A Combined Qualitative and Quantitative Analysis, Journal of Development Studies, 42(7), 1225-1251.
Leyva Parra, G. (2004). El ajuste del ingreso de la ENIGH con la contabilidad nacional y la medición de la pobreza en México, SEDESOL, México.
Morduch, J. (1998). Poverty, Economic Growth, and Average Exit Time, Economics Letters, 59(3), 385-390.
Rosenzweig, M. (2003). Payoffs from Panels in Low-Income Countries: Economic Development and Economic Mobility, The American Economic Review, 93(2), 112-117.
Sen, A. K. (1976). Poverty: An Ordinal Approach to Measurement, Econometrica, 44(2), 219-231.
Watts, H. (1968). An Economic Definition of Poverty, en D. Moynihan (Comp.), On Understanding Poverty, Basic Books, NY.
Zheng, B. (1997). Aggregate Poverty Measures, Journal of Economic Surveys, 11(2), 123-162.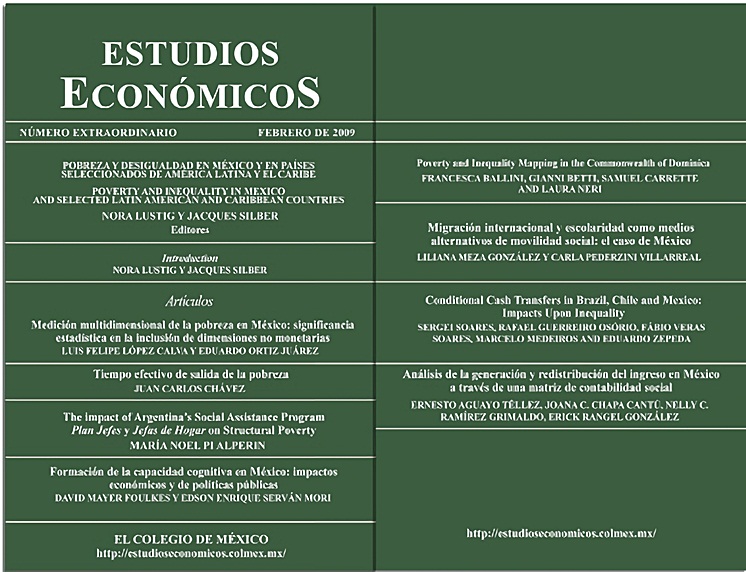 How to Cite
ChávezJ. (2009). Actual exit time from poverty. Estudios Económicos, 35-47. https://doi.org/10.24201/ee.v0i0.377
Abstract viewed

- 404 times

PDF (Spanish) downloaded: 202 times