Multidimensional measurement of poverty in Mexico: Statistical significance in the inclusion of non-monetary dimensions
Luis Felipe López Calva

Regional Bureau for Latin America and the Caribbean, UNDP

Eduardo Ortiz Juárez

Regional Bureau for Latin America and the Caribbean, UNDP
Keywords:
multidimensional poverty, poverty measurement, exclusion error, Mexico
JEL Classification:
C35, I32, O10
Abstract
Identifying relevant variables for multidimensional poverty analysis depends on how different dimensions complement or substitute each other, given the existence of attributes highly correlated with household income. Dimensions weakly correlated with household income highlight the relevance of multidimensionality. By using the Mexican Family Life Survey, this article incorporates dimensions weakly correlated with income to show, firstly, the probability of falling into poverty given three sets of indicators; and secondly, the magnitude of the exclusion error when a monetary measure, against the aforesaid probability, is adopted. The article finds a large exclusion error, especially in the case of moderate poverty.
References
Alkire, S. y J. Foster (2007). Counting and Multidimensional Poverty Measurement, Queen Elizabeth House, Oxford University, OPHI Working Paper.
Atkinson, A. B. y F. Bourguignon (1982). The Comparison of Multi-dimensioned Distributions of Economic Status, Review of Economic Studies, 49 (2).
Basu, K. y L. F. López Calva (2004). Functionings and Capabilities, en K. Arrow, A. Sen y K. Suzumura (comps.), Handbook of Social Choice and Welfare, Elsiver Science-North Holland, Londres.
Bourguignon, F. y S. R. Chakravarty (2003). The Measurement of Multidimensional Poverty, Journal of Economic Inequality, 1 (1).
Chakravarty, S. R., D. Mukherjee y R. Ranade (1998). On the Family of Subgroup and Factor Decomposable Measures of Multidimensional Poverty, Research on Economics Inequality, vol. 8.
Duclos, J., D. Sahn y S. D. Younger (2004). Robust Multidimensional Poverty Comparisons, CIRPÉE, Université Laval, Québec, Canadá (mimeo).
Galor, O. y J. Zeira (1993). Income Distribution and Macroeconomics, Review of Economic Studies, 60 (1).
Kakwani, N. y J. Silber (Comps.) (2008). Quantitative Appoaches to Multidimensial Poverty Measurement, Palgrave MacMillan.
Kolm, S. (1977). Multidimensional Egalitarianisms, The Quarterly Journal of Economics, 91 (1).
López Calva, L. F. y L. Rodríguez Chamussy (2005). Muchos rostros, un solo espejo: restricciones para la medición multidimensional de la pobreza en México, en M. Székely (Coord.), Números que mueven al mundo: la medición de la pobreza en México, Sedesol-CIDE-ANUIES, Miguel Ángel Porrúa, México.
Maasoumi, E. (1986). The Measurement and Decomposition of Multi-dimensional Inequality, Econometrica, 54(4).
PNUD (2005). Informe sobre desarrollo humano, México 2004. El reto del desarrollo local, Mundi Prensa México.
Ravallion, M. (1996). Issues in Measuring and Modelling Poverty, The Economic Journal, 106 (438).
Rubalcava, L. y G. Teruel (2004). The Mexican Family Life Survey Project (MxFLS): Study Design and Baseline Results, CIDE/UIA, documento de trabajo.
Székely, M. (Coord.) (2005). Números que mueven al mundo: la medición de la pobreza en México, Sedesol-CIDE-ANUIES, Miguel Ángel Porrúa, México.
Tsui, K. (2002). Multidimensional Poverty Indices, Social Choice and Welfare, vol. 19.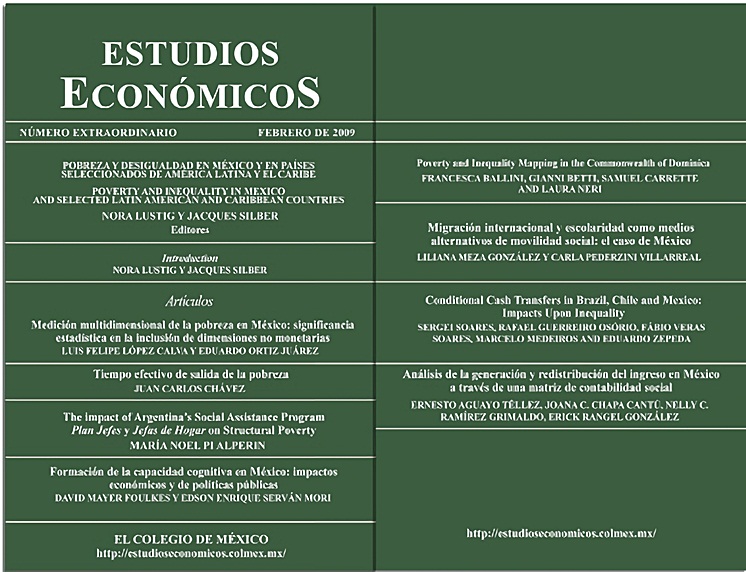 How to Cite
López CalvaL., & Ortiz JuárezE. (2009). Multidimensional measurement of poverty in Mexico: Statistical significance in the inclusion of non-monetary dimensions. Estudios Económicos, 3-33. https://doi.org/10.24201/ee.v0i0.374
Abstract viewed

- 686 times

PDF (Spanish) downloaded: 150 times