The welfare state as a public good not excludable
Elvio Accinelli

Universidad Autónoma de San Luis Potosí

Osvaldo Salas

Universidad de Gotemburgo
Keywords:
welfare state, game theory, privatization
JEL Classification:
H30, H44, B05
Abstract
In this work, we analyze the possible evolution of an economy in which,up to a certain point, the State acted as a monopolist in the provision of a set of public services and, faced with a change in the economic situation, poses itself, the question about whether these services should continue to be, as they were until then, provided by the State or, if the service should be handed over to private individuals. Regardless of the answer to this question, it is assumed that they should be provided without exclusions and with the same quality to all citizens regardless of their wealth. This is a basic principle that guides the economies of countries that, like Sweden, are governed by the rules of the welfare state. We introduce a model based on game theory to analyze the evolution of this process and its possible outcomes.
References
Accinelli, E.; F. Martins; J. Oviedo; A. Pintos y L. Quintas. 2017a. Who controls the controller? A dynamical model of corruption, The Journal of Mathematical Sociology, 4(4): 220-247.
Accinelli, E.; E. Carrera y O. Salas. 2007b. Migración por imitación y crecimiento económico: caso de Chile y Perú, Población y Desarrollo, 44: 72-85.
Accinelli, E.; E. Ordaz; A. Pinto y L. Plata. 2016. Social contract, free riders and utilities, Journal of Global Economics, 4(1): 168-172.
Accinelli, E. y O.Salas. 2015 Privatización y bienestar social en el sector de hogares de ancianos en Suecia, Contaduria y Administración, 60(4): 707-722.
Accinelli E. y E. Carrera. 2012. Corruption driven by imitative behavior, Economics Letters, 117(1): 84-87.
Christensen, J. 2010. Public interest regulation reconsidered: from capture to credible commitment, en D. Levi-Faur (comp.) Handbook on the Politics of Regulation, Edward Elgar.
Coase R.H. 1994. La empresa, el mercado y la ley, Madrid, Alianza Editorial. Esping-Andersen, G. 2003. Why We need a New Welfare State, Oxford Scholarship Online.
Hantke-Domas, M. 2003. The Public Interest Theory of Regulation: Non-Existence or Misinterpretation? European Journal of Law and Economics, 15(2): 165-194.
Hertog, J. 2010. Review of economic theories of regulation, Utrecht School of Economics, discussion paper series, núm. 10-18.
Kahn, A.E. 1993. The economics of regulation. Principles and institutions, Cambridge, The MIT Press.
Kay, J. y J. Vickers. 1988. Regulatory reform in Britain, Economic Policy, 3(7): 285-351.
Le Grand, J. 1991. Quasi-Markets and Social Policy, The Economic Journal, 101(4): 1256-1267.
Lucas, R. 1972. Expectations and the Neutrality of Money; Journal of Economic Theory, 4(2): 103-124.
Maskin, E. y S. Baliga 2003. Mechanism Design for the Environment, en K.G. Mäler y Z.R. Vincent (comps.) Handbook of Environmental Economics, Elsevier Science, pp. 306-324.
von Neumann, J. y O. Morgenstern. 1953. Theory of Games and Economic Behavior, Princeton, Princeton University Press.
Peltzman, S. 1976. Toward a More General Theory of Regulation, Journal Law of Economics, 19(2): 211 -240.
Posner, R. 1974. Theories of economic regulation, NBER working paper series, núm. 41.
Salas, O. 2015. Aldreboende under privatisering, Nordisk Administrativt Tidskrift, 92(1): 44-57.
Smith, M. y G.R. Price. 1973. The Logic of Animal Conflict, Nature, 246: 15-18.
Stigler, G. 1971. The Theory of Economic Regulation. The Bell Journal of Economics and Management Science. 2:3-21.
Stiglitz, J. 2010. Regulación y fallas, Revista de Economía Institucional, 12(23): 13-28.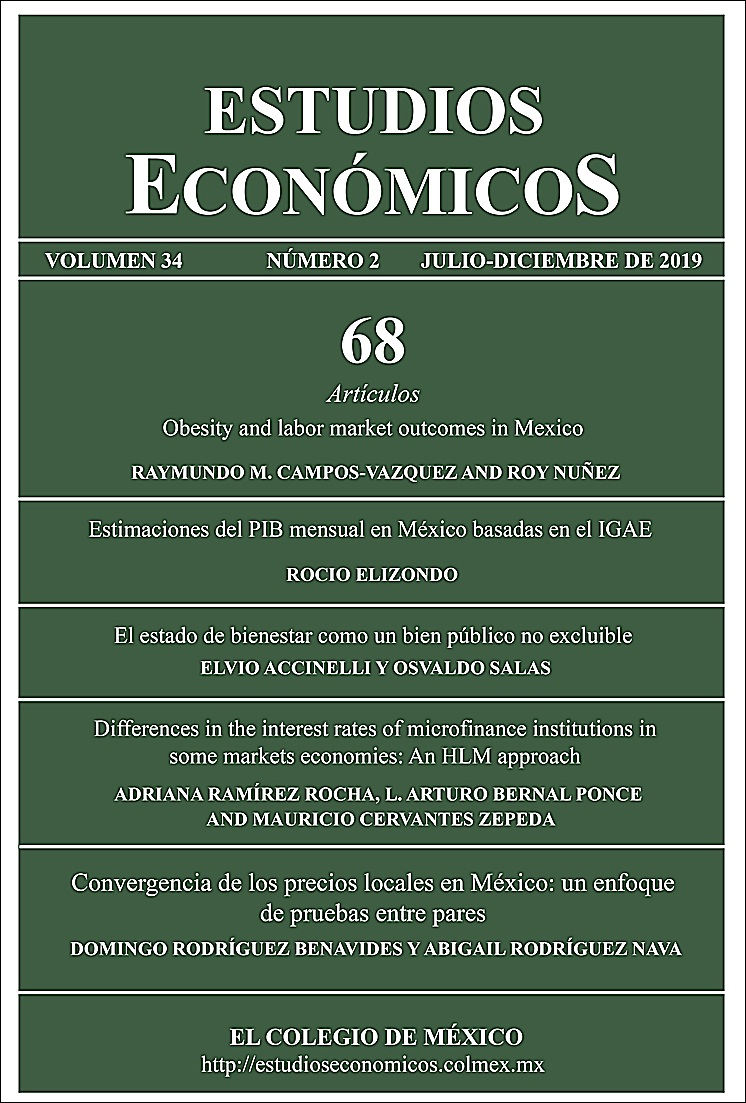 How to Cite
AccinelliE., & SalasO. (2019). The welfare state as a public good not excludable. Estudios Económicos, 34(2), 243-273. https://doi.org/10.24201/ee.v34i2.370
Abstract viewed

- 1391 times

PDF (Spanish) downloaded: 302 times

XML (Spanish) downloaded: 0 times