Macroeconomic effects of price control: A short-term general equilibrium analysis
Santiago Levy

Center for Latin American Development Studies, Boston University
Keywords:
balance of trade, macroeconomy, price control
References
Benassy, J. P. (1975), "Neo-Keynesian Disequilibrium Theory in a Monetary Economy", Review of Economic Studies, 42, pp. 503-523.
Dervis, K. et at. (1982), General Equilibrium Models for Development Policy, Cambridge University Press.
Dreze, J. J. (1975), "Existence of an Exchange Equilibrium Under Price Rigidities", International Economic Review, 16, pp. 301-320.
García Alba, P. (1986), "Especificación de un sistema de demanda y su aplicación a México", Estudios Económicos, vol. 1, núm. 2, pp. 305-336.
Gil Díaz, F. (1985), "Investment and Debt", en P. M. Musgrave (ed.), Mexico and the United States: Studies in Economic Interaction, Westview Press.
Kehoe, T. y J. Serra Puche (1983), "Price Controls in an Applied General Equilibrium Model: Food Subsidies in Mexico", Department of Economics Discussion Paper 330, Massachusetts Institute of Technology.
Levy, S. (1987a), "A Short Run General Equilibrium Model for a Small, Open Economy", Journal of Development Economics, 25, pp. 63-88.
Levy, S. (1986b), "Short Run Responses to Foreign Exchange Crises", Journal of Policy Modelling.
Nguyen, T. y J. Whalley (1986), "General Equilibrium Under Price Controls with Endogenous Transactions Costs", por aparecer, Journal of Economic Theory.
Nguyen, T. y J. Whalley "Coexistence of Equilibria on Black and White Markets", Department of Economics, University of Western Ontario, mimeo.
Reyes Heroles, J. (1983), Política macroeconómica y bienestar en México, Fondo de Cultura Económica, México.
Ros, J. (1985), "Mexico From the Oil Boom to the Debt Crisis: and Analysis of Policy Responses to External Shocks 1978-1985", Centro de Investigación y Docencia Económicas, México (mimeo.).
Secretaría de Programación y Presupuesto (1978), Sistema de Cuentas Nacionales de México, México.
Taylor, L. (1983), Structuralist Macroeconomics: Applicable Models for the Third World, Basic Books, Nueva York.
Varian, H. (1978), Microeconomic Analysis, W. W. Norton, Nueva York.
World Bank (1983), World Development Report, Oxford University Press.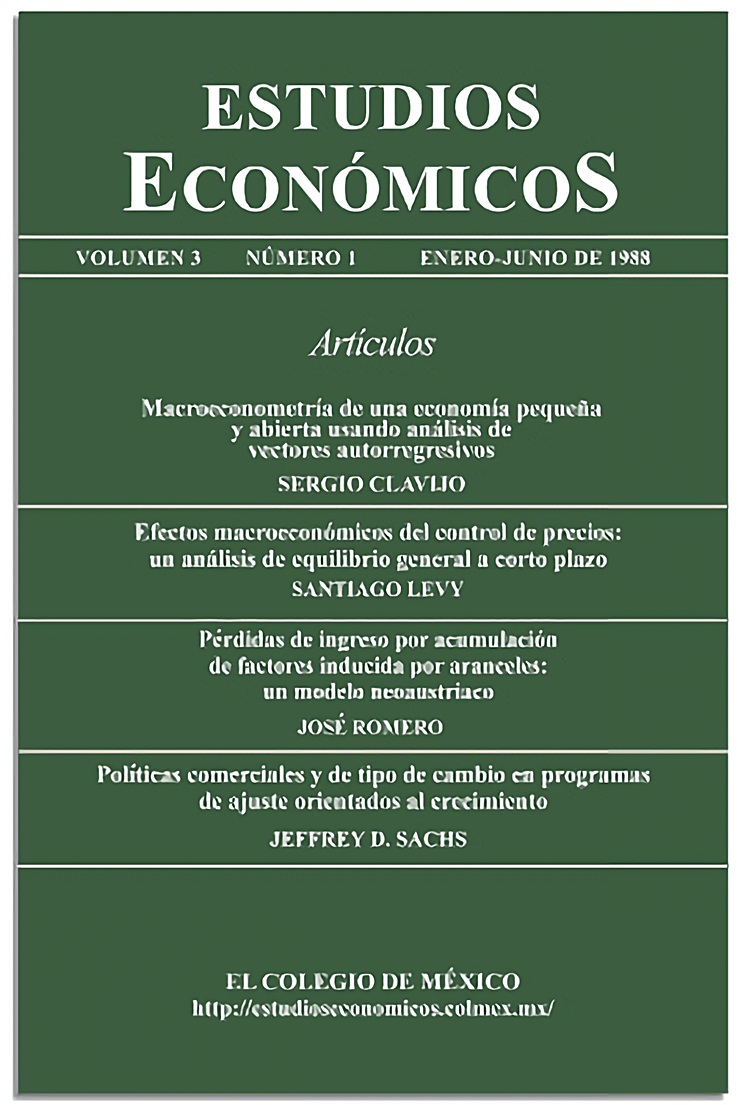 How to Cite
LevyS. (1988). Macroeconomic effects of price control: A short-term general equilibrium analysis. Estudios Económicos, 3(1), 27-56. https://doi.org/10.24201/ee.v3i1.351
Abstract viewed

- 254 times

PDF (Spanish) downloaded: 1533 times