Estimation of the exit time from poverty: An application to the ten most marginalized municipalities in Mexico
Oscar Javier Cárdenas Rodríguez

Universidad de Guanajuato

Francisco Javier Luna López

Secretaría de Finanzas y Administración, Estado de Guanajuato
Keywords:
measurement of poverty, analysis of poverty
Abstract
In this paper we apply the methodology proposed by Morduch (1998) to estimate the average exit time from poverty of the poor households in the ten most marginalized municipalities in Mexico via pecuniary income growth. The results show that in most cases there are families that will never leave poverty in their life time, even with an annual income growth, in real terms, of 4%.
References
Boltvinik, J. y E. Hernández (1999). Pobreza y distribución del ingreso en México, Siglo XXI Editores, México.
Comité Técnico para la Medición de la Pobreza (2002). Medición de la pobreza: variantes metodológicas y estimación preliminar, Sedesol, Serie Documentos de Investigación.
Cortes, F. (2003). El ingreso y la desigualdad en su distribución. México:1997-2000, Papeles de Población, núm. 35, 137-153.
Cortes, F. (2000). La distribución del ingreso en México en épocas de estabilización y reformas económicas, CIESAS – Miguel Ángel Porrúa, México.
Deaton, A. (2001). Counting the worlds poor: problems and possible solutions, Research Observer, vol. 16, 125-147.
Foster, J., J. Greer y E. Thorbecke (1984). A class of decomposable poverty measures, Econometrica, vol. 52, 761-766.
Hernández, E. y E. Velázquez (2003). Globalización, desigualdad y pobreza. Lecciones de la experiencia mexicana, UAM/Plaza Valdés, México.
Kanbur, S. M. R. (1987). Measurement and alleviation of poverty, with an application to the effects of macroeconomic adjustment, IMF Staff Papers, vol. 34, 60-85.
Leyva-Parra, G. (2004). El ajuste del ingreso de la ENIGH con la contabilidad nacional y la medición de la pobreza en México, Sedesol, Documento de Investigación, úm. 4.
Lustig, N. (2004). Crecimiento económico y distribución de la pobreza, en J. Boltvinik y A. Damián (comps.), La pobreza en México y el mundo. Realidades y desafíos, Siglo XXI Editores, México, 88-90.
Morduch, J. (1998). Poverty, economic growth and average exit time, Economics Letters, vol. 59, 385-390.
Segob (2001). Diario Oficial de la Federación, 31 de octubre, México.
Sen, A. (1976). Poverty: an ordinal approach to measurement, Econometrica, vol. 46, 437-446.
SHCP (2005). Criterios generales de política económica, México.
Watts, H. (1968). An economic definition of poverty, en D. P. Moynihan (comp.), Understanding poverty, Basic Books, Nueva York, 316-329.
World Bank (2005). Poverty in Mexico-Fact Sheet, http://web.worldbank.org/WBSITE/EXTERNAL/COUNTRIES/LACEXT/MEXICOEXTN/0,,contentMDK:20233967pagePK:141137piPK:141127theSitePK:338397,00.html.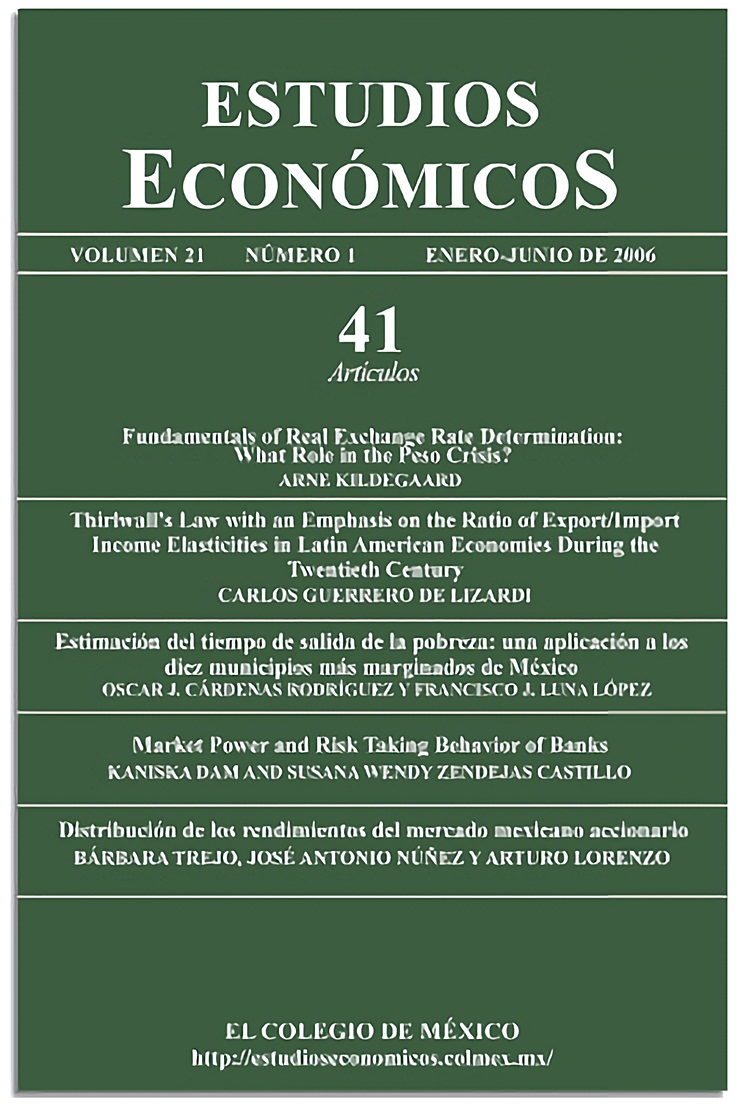 How to Cite
Cárdenas RodríguezO., & Luna LópezF. (2006). Estimation of the exit time from poverty: An application to the ten most marginalized municipalities in Mexico. Estudios Económicos, 21(1), 45-54. https://doi.org/10.24201/ee.v21i1.158
Abstract viewed

- 270 times

PDF (Spanish) downloaded: 148 times