Determinants of Price Costs Margins in Mexican road transport: A spatial econometrics approach
Ignacio J. Cruz Rodríguez

Universidad Nacional Autónoma de México
Keywords:
transport economics, spatial econometrics, price cost margins
JEL Classification:
L91, R12
Abstract
By using spatial econometric techniques this paper valids the existence of spatial effects on Price Costs Margins of Mexican road transport at firm size level. The distribution of this variable shows a non random pattern over de space but this pattern differs among size of firm. The main results shows that spatial effects are the variable with grader impact of a series of determinants, also there is a decline on the magnitude of those effects among size of firm.
References
Alañon, P. 1999. El uso práctico de las técnicas de econometría espacial: la productividad del trabajo industrial, Universidad Complutense de Madrid, Documentos de trabajo, núm. 9908.
Anselin, L. 2005. Exploring Spatial Data with GeoDa: A Workbook, Center for Spatially Integrated Social Science, University of California.
Anselin, L. 1995. Local Indicators of Spatial Association-LISA, Geographical Analysis, 27: 93-115.
Anselin, L. 1988. Spatial econometrics: Methods and models, Kluwer.
Avalos, M. y V. Valdés. 2006. Regulación de aerolíneas en México, CIDAC, México.
Bera, A.K. y M.J. Yoon. 1992. Simple diagnostic tests for spatial dependence, Department of Economics, University of Illinois, inédito.
Castañeda, A. y D. Mulato. 2006. Market structure: Concentration and imports as determinants of industry margins, Estudios Económicos, 21(2): 177-200
Hernández Laos, E. 1985. La productividad y el desarrollo industrial en México, Fondo de Cultura Económica, México.
INEGI. Encuesta anual de transporte, 2004-2008.
Le Gallo, J. y C. Etur. 2000. Exploratory spatial data analysis of the distribution of regional GDP in Europa, 1980-1995, Papers in Regional Science, 82(2): 175-201.
LeSage, J. 1998. Spatial econometrics, http://www.spatial-econometrics.com/html/wbook.pdf.
Martin, S. 1988. Market power and / or efficiency? The Review of Economics and Statistics, 70(2): 331-335.
Morán, P. 1948. The interpretation of statistical maps, Journal of the Royal Statistical Society, Series B, 10(2): 243-251.
Pérez, J. 2006. Econometría espacial y ciencia regional, Investigación Económica, LXV (258), 129-160.
Quintana, L. y M. Mendoza. 2008. Econometría básica. Modelos y aplicaciones a la economía mexicana, Plaza y Valdés, México.
Ramírez, R. 1999. Organización industrial ante la apertura comercial en La manufactura mexicana, en F. Brown y L. Domínguez (comps.) Ensayos de economía aplicada, UNAM, México.
Vayá, E y R. Moreno. 2000. Técnicas econométricas para el tratamiento de datos espaciales: la econometría espacial, Edicions Universitat de Barcelona.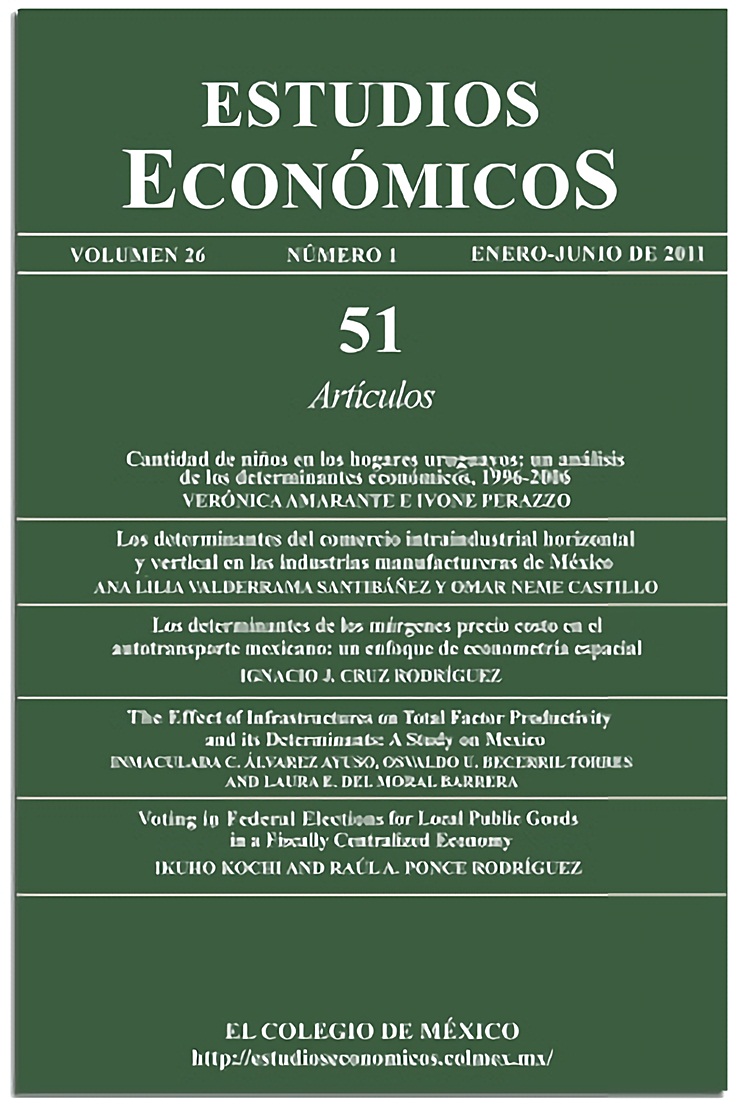 How to Cite
Cruz RodríguezI. (2011). Determinants of Price Costs Margins in Mexican road transport: A spatial econometrics approach. Estudios Económicos, 26(1), 69-95. https://doi.org/10.24201/ee.v26i1.104
Abstract viewed

- 700 times

PDF (Spanish) downloaded: 185 times